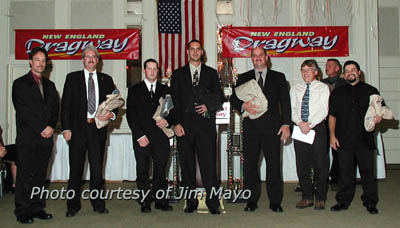 What can a Sponsor Expect?
Downtime Racing delivers the following:

1. A professional and competitive race car and driver.
2. We compete at 40 events throughout the course of the season.
3. The car and driver is available for participation at trade shows and events.
4. Professional and intelligent represntation of a sponsor's products or services to race fans, and participants.
5. Our race car is viewed by over 250,000 people each season, and we have personal contact with as many as 5000 each year.
6. We actively promote our Sponsors.
7. As a race team we have won more events in the past four years than many teams do throughout an entire career. Winning is important as it shows a high level of committment and also places the Sponsor's name in front of the public more often.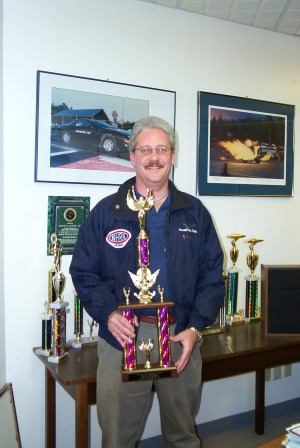 Why Sponsor TNTDrag Racing?
The TNTDrag Racing Camaro is one of the most visible cars in Maine. We also actively compete in New Hampshire and New Jersey every season.

Downtime Racing won the General Motors High Tech Shootout in March of 2001 in Englishtown New Jersey and was featured in GM High Tech Performance Magazine.

Our driver, Ted Hunter, was featured in CRN Magazine in four separate issues in November of 2001, including the Computer Hall of Fame Supplement which was distributed at the CRN Hall of Fame Awards Ceremony in Las Vegas.

Ted has also been Featured in VAR Business Magazine and in Interface Tech News.

Our success racing has led to features in the Bath Brunswick Times Record, and been recorded in National Dragster and Drag Review Magazines.

In addition to racing, Ted has served on several national boards and committees for Comptia, the national trade organization of the computer industry, been honored by CMP Media in winning the CMP IT Platinum Award, and won a Solution of the Year award from VAR Business Magazine.

Ted's wife, Trisha, is the incoming District Govenor of District 7780 in 2003-2004 for Rotary International and served two terms as President of Brunswick Coastal Rotary.

There are over 2200 Rotarians and 40 clubs in this district comprised of business owners and managers. Rotary is the largest scholarship provided in the world and has lead the fight against Polio. Ted has been named PR Chairperson for the district leading into Rotary's 100th anniversary in 2004.

Additionally, Ted moderates the drag racing forum at CamaroZ28.com, one of the internet's finest GM enthusiast web sites.